i live in sunnyside, queens. i like to eat.
shaunaeatssunnyside@gmail.com
Magners Makes The World Go 'Round
sunday morning, 10am. the jolting chime of a synthesized cell phone alarm…
stumble out of sleep, shuffle to the closet, shimmy arms then head into brilliant red manchester united jersey.. two sips of water and two steps out the door and we come into complete consciousness seated in high chairs under a dim lamp buried deep within flynn's pub (north side of queens blvd b/w 43rd and 44th sts), two fresh bottles of magners irish cider before us with aerated fizz seeping out in a thin, hypnotic fog from the rim of a green-and-gold label… imbibe over ice, pint glass positive.
the pub fills up, the projector screen is down, and by 11am we're in full swing of the matchup of the season…
this is pretty much our standard weekend routine. no matter what the circumstance, the party or the hangover, the weather or the windfall, our one constant during the magical time of futbol season is a bar stool in a packed house at flynn's and a pint of magners with ice. we live for these simple pleasures.
it took us more than two years of pub patronage before the english bartender finally referred to us in passing as "regulars." it took us roughly just as long to pick up on gameday subtleties like arriving 30-40 min. in advance to snag prime seats near the large screen in the rear and to ensure ourselves a drink or two pre-kickoff. flynn's is a BYOF establishment, so stopping for snacks is imperative unless we want to starve until halftime whilst getting blitzed on a pint and a half. the congested crowd of weathered locals near the door can often give a false reading of how packed the bar actually is.. space in the back, gotta keep it moving…
on the particular sunday in question, the crisp, inviting tingle of magners on our tongues was just what the doctor ordered. B made a euro shop run before the fox soccer channel jump-off for some baked goods to complement the brew…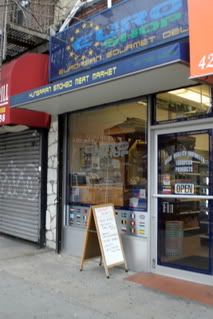 euro shop (on the north side of queens blvd b/w 42nd and 43rd sts) is this tiny blue-awning storefront specializing in hungarian smoked meats, with a diplomatic display of european union flags in the window and a daily specials dry-erase board regularly advertising dense and doughy bacon biscuits, fruit strudels, and varieties of hungarian pastry. mmm, bacon…
B returned with a sack of homemade apricot and raspberry jam rugelach and two industrial-sized feta rolls. we got the hook-up on an extra raspberry nugget (to the right), which definitely came through in the clutch during injury time…
the rugelach were delightful.. flaky and buttery shells with *just* the right amount of preserves nestled inside to pack a punch of flavor without burnt, chewy gelatin oozing out the ends (i hate that). sugary apricot goo married with the fermented oaky apple base of our brews for a truly rewarding taste, perfectly paired with the sweet satisfaction of an unsuspecting hargreaves free kick to boost the red devils to victory…
once the sweets were inhaled, we turned ravenously to the logs of wrapped bread harboring thin streams of chunky feta. these were slightly less stimulating, as the abundance of bread was rather bland and chewy and the feta was weakly strung throughout and didn't offer the BANG factor that it could've. we ate them cause we were hungry — nobody ever said euro pastries were filling — but darned if we weren't left hankerin for a dozen more rugelach.
following our game, we shambled out into the glare of an afternoon sun and found our way into massis (43rd ave b/w 42nd and 43rd sts), another eurocentric menagerie in the 'hood, to pick up some crispy sesame gruyére cheese sticks, the perfect accompaniment to a sixer of imported peroni courtesy of The Store Formerly Known As OK Food (43rd ave b/w 42nd and 43rd). i would like to note that OK grossly marks up their imported bottles… pathetic as it is, we go there because it's close and we're weak. but i bought a sixer of peroni at whole foods a month ago for $7 and OK, er, "sunnyside market," manages to smile sideways and charge $11. fuckers.
in our magners haze, we also went for this econo-bag of "honey cookies," which seemed like a good idea at the time but ended up being mealy artificial sugar pellets with an unsettling chemical aftertaste. we'd probably have been better off licking drywall: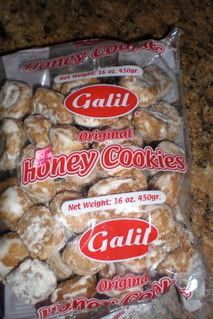 Flynn's Pub
43-13 Queens Blvd (b/w 43rd and 44th sts)
Sunnyside, NY 11104
718-786-6756 
Euro Shop Meat Market and Bakery
42-07 Queens Blvd (b/w 42nd and 43rd sts)
Sunnyside, NY 11104 
718-786-6026 
Massis International Foods
42-20 43rd Avenue (b/w 42nd and 43rd sts)
Sunnyside, NY 11104 
718-729-3749 
blog comments powered by

Disqus
Page 1 of 1