i live in sunnyside, queens. i like to eat.
shaunaeatssunnyside@gmail.com
¡Fiesta Friday!
exhausted and (literally) beat down from a rough work week, boo and i decided to order delivery tonight. while rifling through our obnoxiously thick pile of random menus, we came across a menu B had recently snatched from our building's spick-and-span lobby - the cover art touting it as "the ultimate mexican restaurant." i like to say 'horchata or you're nada.'
de mole is apparently on 48th ave in the bowels of woodside… sunnyside being the younger, better-looking sister of the two. word on the street is that de mole the restaurant is quite quaint and charming amidst some truly "fug" surroundings. an oasis in the desert, one might say. but i've never been, so that's neither here nor there.
de mole: the delivery … since we're more than 10 blocks away, we had to hit a $20 minimum to justify the erector's set skeleton bike taxi bringing over our booty.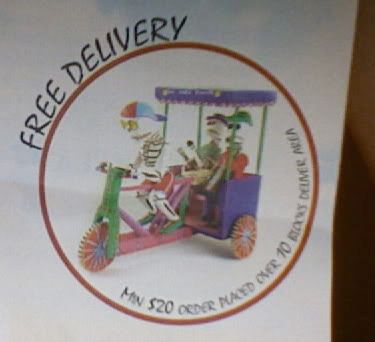 on a serious note, we called around 10:15pm halfway expecting to be turned away by the burrito bandits, but to our surprise, they accepted our order with open arms. less than 30 min later, skeletor was ringing our front doorbell.
i take my guacamole and chips seriously. a seasoned guac connoisseur with eyes only for the pesteled finest, i've worked for years and years to perfect my avocadular contribution to society. blasphemous store-bought brands are totally out of the question, and many restaurant guacs disappoint with a liquidy, pureed consistency completely lacking the diversity in texture and flavor that makes guac so great in the first place.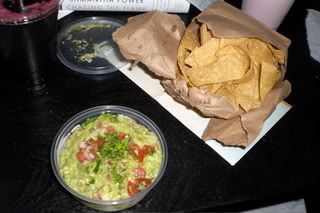 de mole's guac pretty much made my night worthwhile. fiercely textured with onions, fresh cilantro, ground avocado and chunks of ripe tomato, it had enough thickness to stay scooped on the succulently salted homemade chip strips straight into my mouth. mild and delicious, it wasn't overkilled by lime juice or seasonings, and the basic nature of this dip sensation kicked off our fiesta in proper fashion. sure it could always stand to be taken up a notch with some ground jalapeño and potent little garlic bits, but i know what i'm dealing with, and anything's better than chipotle. ¡olé!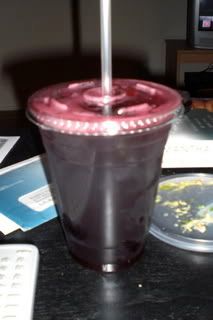 drink-wise, i was shit outta luck on the horchata, so i opted to indulge in a first-time bebido, the agua de jamaica (hibiscus water). seeing as how i'm a jamaican in disguise, anyway, me expected big t'ings. shit was brilliantly red, and naturally sweet without an inkling of artificial insemination. their one misstep tonight came with B's strawberry milkshake, which was essentially frothy strawberry milk-water by the time it made it to us via bike taxi. nonetheless, B was a big fan of my hibiscus water as well, and after a brief exchange over whether hibiscus is a bush or a flower, we moved on to round two of fiesta night.
papí was quite pleased with his shredded chicken enchiladas with "that special red chili stuff." officially, it's called guajillo chile sauce, and it comes slathered in perfect proportion to the chicken within a fresh corn tortilla. melty queso blanco lays seductively on top without overtaking the enchilada's overall visual appeal, and smears of sour cream and cilantro serve as sexy pimp garnish. the beans and rice were light and tasty, beans sans runny and rice sans dry.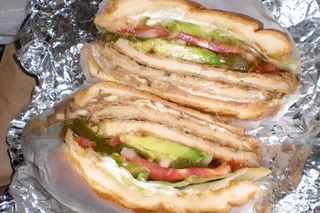 mama had a breaded chicken torta, which was palatable and fine, in my book, though not particularly spectacular on any front. let's just say i could've gotten that at the new post. but no matter, it was edible and i was hungry.. tortas are usually messy enough that they have to be eaten in a matter of minutes, so i just try to breathe shallow and shove it in effectively. big ups for the tang of a flattened jalapeño.
some impromptu online research has yielded the prospect that de mole has a killer carne asada burrito, as well as knee-weakening coconut flan. i also read lore of a mango-topped tres leches cake that just may rock my leche-coveting world. we'll definitely go back, as decent mexican restaurants are few and far between in the city, much less in this 'hood (don't even get me started on chips and that godforsaken taco truck).
De Mole Mexican Restaurant
45-01 48th Avenue
Woodside, NY 11377
718-392-2161
blog comments powered by

Disqus
Page 1 of 1